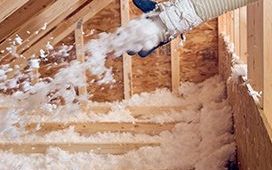 Blow In Foam
_
Blow In Foam

Insulation
Because You Deserve the Best!
Fiberglass insulation has stood the test of time. Go look at your grandma's house and you're sure to find that blow in insulation can stand up to the time test. Blow in insulation has a rapid return on investment when it comes to your energy bills. Blow in is a cost effective way to insulate your home or business and fits into almost any budget. Start saving on your energy bills today!
Long Lasting
Outside of having to add insulation every 8-10 years, blow-in insulation is still used in homes from over 75 years ago… that's pretty long lasting!
Affordable
Fiberglass insulation is our most affordable option that allows you to keep your wallet full, but still keep your home or business well insulated.
Energy Saving
Blow in insulation gives your home or office a great start to energy savings. According to
naima.org
, people with insulation will save 42% over those without.