Texoma Foam
_
Welcome to

Texoma Foam
SAVE Money on Rising Energy Costs

Insulation Specialists
Quality insulation installation doesn't have to be complicated. It can be as simple as calling on Texoma Foam!
Our insulation experts offer all types of insulation services, from blown-in insulation for attics to spray foam or injection foam for whole property protection.
Our home insulation services do so much more than just protect your home from the elements.
Customer Support
You are not a number. You are a valued customer and we want to keep it that way.
Timely Service
2 o'clock means 2 o'clock. We respect your time as much as we do ours.
Great Product
Always use the best. This is what we do for our homes and business, so we do it for yours.
PROJECTS
_
Latest Projects
Blow-In Insulation | Spray Foam Insulation
Choices
_
Which Insulation


Do I Choose

?
Which is best for my situation

It has long been known that home insulation comes with many benefits. For one, it helps maintain a comfortable temperature in your home, all year round. But more importantly, it dramatically lowers your monthly energy bills, as well as reduces your carbon footprint.
Now, you're probably considering installing insulation materials in your home – but, which material should you choose? After all, each insulation type comes with a unique set of benefits.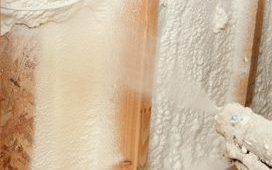 Spray Foam
Spray foam insulation is generally used in areas where there are no wall cavities to contain other types of insulation – on concrete slabs or unfinished walls.
THE UPSIDE: When sprayed on the surface, the foam expands to fill bypasses as it resists air infiltration. It can be used in small quantities to fill tight spaces while increasing structural stability and providing sound insulation.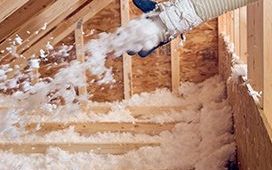 Blow In Insulation
THE UPSIDE: Materials can be blown-in to attics, finished walls and tough to reach areas. The loose fill material can also be sprayed in with a water-based adhesive. It is environmentally friendly, consisting of 80% recycled newspapers, and is less of a health hazard to the installer than fiberglass.
Testimonials
_
Testimonials
Check out what our customers are saying
As an Electrician I go into attics all the time. It doesn't take very long for temps to get up to over 120 degrees, especially when temps are over 100 degrees outside. I have a temp sensor inside my air ducts so I can monitor how hot or cold my AC/Heater is. I used to watch my thermoset say 115+ degrees, and whenever the AC would start up, I am now blowing that hot air all through my house until the duct work and unit would cool off. My attic is now about a 10 degree difference from my house at ALL times. I took this picture of me and my wife in the attic and it's well over a 100 degrees outside. It's crazy that it feels better in the attic. Needless to say, my Energy bills are lower year round. I work in construction and am around various different contractors all the time. There are other people who offer this service, which I've seen their work vs Dave Merrel and Texoma Foam, and Daves crew is top notch, clean, and will make sure the job is done right! Many other contractors have unevenness in the foam, some areas have thick globs and others are too thin. Texoma Foam does it right the first time because they are the professionals in this area. Dave is honest and trustworthy and has your best interest in mind.
Ryan ParkRP Electric, Owner
Texoma Foam does an amazing job for me day in and day out! I recommend to all of my customers if they want spray foam insulation to call Dave at Texoma Foam. They do professional work and probably the best I have ever seen. They show up on time when they say they will and leave the job site clean, which is very important to my customers. They do business on a handshake and do what they say they will which is hard to find these days.

Highly recommended!

Jim ToneyOwner, Double J Welding
My experience with Texoma Foam, was great ! They got here right on time, explained to me what they were going to be doing and got to work! They were finished early and cleaned up, answered all my question and went on their way ! I have been very please with my electric bill! This has been the hottest summer so far , that I have had in my home , I keep my thermostat on 75 and my electric bill hasn't caused me to have a heart attack yet !! All and all I give Texoma Foam an A+ and highly recommend them !

Chelsey Taylor
So impressed with the difference this has made in our home! Our kids avoid their bedrooms upstairs all summer…until now! The upstairs has had record low temps, the downstairs cools down noticeably faster and the a/c is coming on less frequently. The guys were SUPER hard workers and I never heard a complaint out of them even when they were in my attic on a 100+ degree day AND our upstairs a/c happened to be broken that day as well. Highly recommend the investment in spray foam insulation and highly recommend this company for the job!

Sarah Allsup